In this Frase review, I will give you a walkthrough of how you can use Frase.io.
I don't know if you feel like me, but writing and optimizing SEO content can be both BORING and very time-consuming – especially if you have to research a topic you have little to no clue about.
You might even have reached the level of boredom (and lack of time) where you have decided to outsource your content production.
The next problem is that you use a lot of time crafting a content brief for your writer to realize that the finished article is nowhere near what you have expected (Been there, done that!)
The copy delivered – But NOT SEO optimized.
Often a copywriter makes a pretty decent article, but the lack of knowledge of the topics makes the article fluffy and without any real value for the user.
SEO optimization is, for many copywriters, a question about squeezing the keyword into the title, and then a few times during the article (+ maybe a few variations).
If it is your lucky day, you might even get a few related keywords – and hit the jackpot if the content manages to answer a question! (JACKPOT!)
(Did you ever had the feeling, why the F***K did I not just write it myself?)
What if you could streamline the content writing process with one tool? 
How would it be if you could craft the content that jumps to the top of Google? (Rank like a BOSS)
Frase.io – If you are ready to step up your content and SEO game
If you can see the benefits of creating highly engaging content and rank on the top in Google, we are now into the "meat and potatoes" of using Frase!
What is Frase, and why should you even consider using it?
Frase is the one content writer tool you need for content briefs, research, and copywriting!.
Frase is an AI-powered online tool that helps you identify your target audience's questions to the keyword they are searching for.
Frase analyzes your competitor's content and breaks it down to structure your content to match the search query's user intent. VOILA!
But let me be a little more specific and ask you one question: What do you normally do when you are writing an SEO-optimized article? 
Do you research a topic (or do you pop out an article with the main keyword in the title and a few LSI keywords and hope it makes it to the top of Google?)
Are you researching the topic, and what is already ranking in Google?
If you go the research way, you know that you need to plow your way through the first two pages of Google while examining headlines, topics, questions, etc. (While you are busy taking notes so you can write that killer article and crush it in Google).
OK, It is not Social Science Fiction – Frase is AI content analyzing with a built-in content editor.
How YOU can benefit from using Frase for content optimization and SEO
You know that research and SEO optimization is time-consuming (who were screaming BORING?).
Imagine if you would know exactly: 
 What kind of content Google already favors
What content your users EXPECT to find
How you should STRUCTURE your article
Which QUESTIONS you should address
How to use HEADLINES, Phrases, and TOPICS?
That is EXACTLY WHAT FRASE CAN HELP YOU WITH
How Frase.io works: Artificial intelligence for content writing
This part of the process is pretty easy: Type in a keyword and let Frase do its magic! (Did I mention that Frase already supports  English, French, Spanish, German, Danish, and Italian)
Frase is then crawling Google and extracting the content of the stuff that is already ranking on pages one and two in Google.
(Kinda makes sense, right? Obviously, Google must like the stuff that's already there!)
After roughly 30 seconds, you have access to all the data – but it gets even better!
You now have two windows – one where you can import the already ranking content (to make a detailed content brief) and one window with an editor.
There are already several templates that you can use to structure your content:
Content outline 
Best X
What is X
Listicle
Outreach
Each of those templates makes it easy to create detailed content briefs for external copywriters.
Importing existing content into Frase.io
In case you have already published an article on your website, you can import the URL content and start optimizing inside the Frase editor. (Time saver!)
Content curation
If you find a quote you want to add to your article, hit the button. Frase would then insert the content with a link back to the source (the same with stats).
Virtual heaven for content strategist (and SEO geeks)
But let us have a closer look at the editor – in the right corner, you would see the following tabs
Top results
Topic score
Questions
Related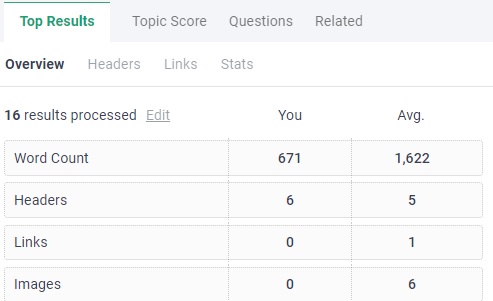 Top results show you an organized list of the competitors that are already ranking for your target keyword.
The topic score shows you the top topics, topic clusters, titles, headers, blacklist, and SERP scores.
Questions show you relevant questions related to your target keyword, and you can choose questions from SERP, People Also Ask, Quora, and Reddit (Yep, it is a GOLDMINE!)
Related allows you to bring in more related results from the SERP, News, and Wikipedia.
The green progress bar and the average score

You will notice that the words you need to cover would lit up to green when you hit the content score required while you are writing.
Once a word is green, you don't need to use it anymore – it is a nice little feature! It will turn red if you have overoptimized a little too much (and you need to reduce the presence of that word).
The green progress bar
You have probably noticed the green progress bar with the yellow indicator – that is your target.
If you mouse over the yellow marker, you will see which average score is required – so if the green status bar has passed the average score, you have met the minimum optimization requirements.
Word count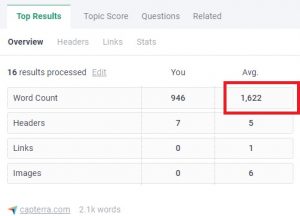 The word count gives you an indicator about the required length of your article – in this case, I have 946 words, and the average word count is 1622 words (I guess I need to step up then!)
In the same way, you can see how many headers your competitors are using on average and if they are using links and images (and how many).
Editing the results being pulled from Google
You can edit in the SERP results being fetched from Google – imagine that your site is already ranking, then there is no reason to pull in your own content among the competitors (smart move, Frase team!).
The question and answer engine
Digging into related questions is a gold mine for content marketers.
Identifying common questions related to your keyword can turn out to be just VERY THING that keeps a buyer at the fence.
If you can address popular questions, you are creating an excellent user experience. (And you are probably aware that Google LOOOOVES questions and answers).
Questions can help you identifying topic gaps. With Answer-focused, SEO-friendly content, you produce super quality for both the users and Google – brilliant!
Pulling data from the SERP, People Also Ask, Quora, and Reddit gives you access to unlimited questions related to your topic.
You can also access the "Question Ideas" tab to enter keywords and pull related questions.
Note about "monthly search volume."
Frase offers a paid ad-on that provides insights into the monthly search volume for SEO keywords and questions.
Personally, I don't use it – but I understand the convenience if you want to see the actual search volume while working with the content editor.
Integrations with Google Search Console
You can connect your Google Search Console to Frase. By pulling data from the Search Console, you get an idea about which keywords are ranking in Google – and you can pull out keywords and start a new document and optimize for that keyword. (Awesome feature!)
Detailed Content briefs for your external writers
If you are working with external writers, you would love how easy it is to make a detailed content brief.
All the research is being carried out, and your content team only needs to read the brief to know exactly WHAT TO WRITE about and HOW THEY SHOULD  WRITE.
OK, It all sounds good – Now SHOW ME THE MONEY.
I understand if you might ask, "What kind of impact does it make to optimize a piece of content?"
I am happy you ask because I have been using Frase for several months and have seen its impact in the search engines when you do optimization the right way!
But let me share a real-life example: 
About a month ago, I made a review article about a product I am using. I was always using Frase for the optimization, and I got close to a 100% score.
I got a shock 3 days later when I realized that my review article ranked number one in Google.
NUMBER 1: Without a single backlink! (That's quite unusual, even for an SEO Geek! hehe)
But it gets better! When the sales started to come in, I realized that the conversion rate was a whopping 31.75%
Apparently, my review had answered the questions the potential buyers had.
Frase Answer – Answer questions on your website
I have been talking a lot about content optimization – but there is more in Frase.
Frase Content is the editor – Frase Answer is an Answer assistant bot you can implement on your website.
Frase would then crawl your content, and by using AI, you get a chatbot that can use automated answers to sales and support questions your users might have.
Of course, you can also edit those answers.
All it requires is to insert a little java snippet on your website – does it work? Well, try it here on SEO Geek Lab – it is the little bot in the right corner below!
You can even integrate with live chat options with the most popular third-party chat systems like Drift, Zendesk, Freshchat, Hubspot, Tidio, Tawk, Intercom, Olark Gorgias.
Other alternatives to Frase
The concept of analyzing content in Google that is already ranking is not new, and other tools do a great job.
Surfer SEO is a great tool that would help to analyze your competitors – it does a great job and can show you exactly which words and headlines, etc., you should use.
Frase is, in my book, a better tool because you get away better content brief and a stronger foundation if you are doing topic research. (But don´t just take my word for it, Surfer SEO offers a free trial!)
Frase Content & Frase Answer Pricing:
You can choose between four types of subscriptions "Basic," "Team," "Growth," and "Enterprise."
The "Basic" subscription covers:
30 documents per month
1 user seat
Pre-Built templates
Advanced topic scoring
Automated content briefs
Unlimited Exporting& Sharing
Google Search Console Integration
Version control
Support for 6 languages
"Basic" starts at $44 per month
The Team Subscription covers everything in "Basic," PLUS:
Unlimited Document credits
3 User Seats (Extra users costs $25/mo seat)
30-Day Answer Analytics
Custom templates
Team documents folders
"Teams"  cost from $114/mo
The "Growth" subscription covers everything in "Teams," Plus
Up to 100K Pageviews
60-Day Answer Analytics
Train AI for Custom Answers
Automated Support Answers
First-Party User Data
Live Chat Handoff
Custom Visitor Journeys
Hubspot CRM Integration
Exit Intent Popups
 Crawl Multiple Site
Growth cost from $199/mo
The "Enterprise subscription" covers everything is "Growth," Plus
Unlimited Pageviews
Unlimited Answers Analytics
Remove Frase Branding
CDP Integrations
Priority Support
Implementation Manager
The "Enterprise" is based on custom pricing
FAQ:
Q: How is Frase different from other SEO tools?
A: Frase is an AI-Powered tool for content optimization, and it gets the job done!
Q: Does Frase offer a free trial?
A: Yes, You can sign up for FREE and optimize 5 documents
Q: Is it difficult to write with Frase?
A: No, the editor is very intuitive and easy to work with
Q: Does Frase help me to rank in Google?
A: Serving the best content and the right answers is all that Google is about!
Q: Can I use Frase for Content briefs for my external copywriter?
A: Absolutely! Creating a content brief is super easy, and it is a great help for an external copywriter
Conclusion of this Frase review: Is Frase worth the subscription?
My conclusion is obvious – Frase is worth any penny! – But only if you put it to action!. If you plan to produce engaging SEO-optimized content that converts users into buyers, it is a true gem.
I have no problem rating Frase with FIVE STARS. And I haven´t even mentioned how supportive they are in the Facebook group!.
But sign up for a free trial on Frase.io, optimize an article – I am pretty sure you would agree!
Frase Review
Summary
If you are serious about creating content that converts into buyers and ranks in Google, Frase is the tool for you. I can honestly say that this is the best content optimization tool I have ever used. Five STARS from me!
Pros
The editor is easy to use - Very intuitive
Super easy to make content briefs to external copywriters
The built-in templates makes it easy to structure specific content types
Works with almost all languages!
The team behind Frase is very helpful and active in the fast growing FB group
Cons
I am stil awaiting the plugin for Google docs support - But it is just around the corner!