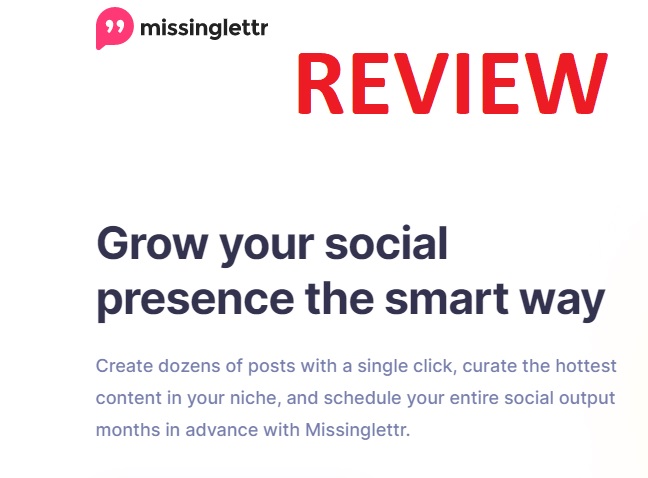 Content distribution to social media is an essential element of content marketing – in this Missinglettr review, I will show you how you can reuse your content across your social profiles and create High-Quality social Media posts – on autopilot.
Social Media Posts are a crucial part of any content plan – especially if you want to grow your audience and drive traffic to your blog or website.
Managing different Social Media accounts can be time-consuming, especially if you manually log in to different social media profiles every time you want to share an image or a blog post.
Social posts can be done smarter and way more efficiently – and this is where Missinglettr fits in – a one-stop Social Media tool.
What is Missinglettr?
Missinglettr is a cloud-based Social Media tool that can help you optimize your Social Media Campaigns and syndicate your content.
How does Missinglettr work?
Missinglettr works like a syndication network that you can use manually or semi-automated.
If you have an RSS feed, any new blog content/post would be automatically imported into Missingletrr, and you can create a campaign across different profiles on the biggest Social Media platforms:
Facebook
Instagram
Twitter
Linkedin
It is also possible to syndicate your content to your Medium.com profile
You can also make manual posts and syndicate them across your different Social Media channels.
The features of Missinglettr
At first, Missinglettr might seem a bit confusing (it did for me), but when I start to play with it, I realized that it is not super complicated to work with – actually, it is quite easy once you get familiar with the interface.
Getting started with Missinglettr
To get started is pretty simple – you authenticate your different Social Profiles, and that way, Missinglettr can post on your behalf – and you choose when and how.
If you want, you can set up an entire network of different Social Media profiles and create an entire SOME network for your Social Media strategy.
Drip campaigns
This is, in my book, one of the most brilliant features – and a way to reuse content to drive more traffic.
When a blot post is syndicated, Missingletrr creates a Social Media Campaign, and all you need to do is edit it.
First, you have to decide how long it should run (campaign period) – you can choose between:
2 weeks blast
2 weeks lite
2-month blast
6-month evergreen
12-month evergreen
The idea is to publish the same content several times (Social Media drip feed) and use different quotes to make each post unique and relevant.
After deciding the length of the campaign, it is time to select which hashtags to use. Missinglettr is using AI to scan your content and for terms that can be used as default hashtags. It would even highlight popular hashtags. (Hashtag suggestions)

The next step is to choose the media to use in your post – Missinglettr would auto import the images from your blog post – but a nifty little feature is that you can also upload images or find and import FREE images directly from Unsplash or Giphy.
Once you have chosen which images you want to use, the next step is to select quotes.
Missinglettr would scan your content and come up with ideas that can be used for quotes – and of course, you can edit each quote or add additional quotes on your own.
The final step is the review process of the different posts – Missinglettr can make posts both with images or quote bubbles (You can add your own image to make the quotes more personal).
You can make a custom posting template, so your campaigns always have the same "look and feel."
Once you are satisfied, you launch your campaign, and Missingletter would add the different posts to your content calendar.
Curating other peoples Social Media Content
To provide more relevant content to your users, you can curate other Missinglettr user's content – and you can allow other users to curate your content.
THIS IS BRILLIANT!
I love this curating feature because you can sort by niche/industry – and only curate content you find relevant for your target audience.
You can earn distribution credit by sharing content from other users – and use those credits to syndicate your own content.
Using the content curation feature, you gain access to unlimited users interested in your products and services.
This is a perfect strategy to gain more Social Media followers.
That is Social Media Marketing on steroids! 🙂
Custom URL shorteners (Bonus TIP)
Sharing content on Social Media platforms requires short links – and Missinglettr has a built-in link shortener you can use.
But you can do it even more cleverly! Missinglettr also supports external URL shorteners like Pixelme.
If you use Pixelme, you can add your Google and Facebook tracking pixels – that way, you can build retargeting campaigns tailored to the user that has clicked on your short link.
Content calendar – The full overview of your Social Media Campaigns
The social content calendar provides a full overview of your entire Social Media scheduling for every post that has been scheduled for syndication.
You can, of course, edit each post on the different social platforms if needed or adjust the settings if you need to.
Analytics and stats
Analytics are important, and Missingletrr allows you to track your performance with advanced analytics features.
You can track the performance of every social channel you are active on and measure your performance of:
Posts
Impressions
Reach
Likes
Comments
New followers
The dashboard is nice and provides insights to identify your best channels, and helps you understand which of your social media profiles generate the most engagement.
Additional features of Missinglettr
Brand customization: Create your own tone of voice and style for your brand
Client collaboration: If you are dealing with external clients, you can invite them to the Missinglettr platform. It is possible to Whitelabel Missingltter, so your clients only see your agency branding.
Stock image library: Use the built-in stock image library and save money on stock photos
Custom URL shortener: Use the built-in URL shortener or use Pixelme.
Scheduling rules: You can use the built-in improved auto-schedule rules or configure your own rules if you prefer
Automatic repost: Missinglettr can re-publish your blog post directly to Medium. You can also reuse and rerun previous campaigns if you want to.
Pricing of Missingletter:
Missinglettr pricing plans consist of the following levels:
1 Workspace
1 Social Profile
50 Schedule posts
0 extra users
1 Workspace
3 Social profiles
500 Scheduled posts
1 Extra user
3 Workspaces
9 social profiles
3000 Scheduled posts
UNLIMITED extra users
You can use a 14-day FREE TRIAL on the PRO plan (NOTE: No credit card is required!)
Share unlimited posts
Add your own content to Missinglettr´s curation library and allow other users to share it
Promote up to 10 posts per month (You can earn more credits by sharing other people's content!)
Unlimited workspaces
25 Social profiles
10.000 Scheduled posts
Custom domain, Dashboard, PDF reports, and more
FAQ about Missinglettr
Q: Is Missinglettr worth it?
A: Absolutely – but it requires that you use it! 😉
Q: Is Missinglettr curate legit?
A: You are sharing your own content, and other users are sharing their content with permission to curate it
Q: Which Social Media accounts can I add to Missinglettr?
A: You can add Facebook, Twitter, Instagram, Linkedin, and schedule posts to Medium
Q: Can I use Missinglettr to promote content from multiple blogs?
A: Absolutely – But you need the "Pro" plan to add more than one source
Q: Can I change my Missinglettr plan?
A: Yes!. You can upgrade any time you want. If you are mid-billing cycle, you will be refunded pro-rata. You can also switch plans during the trial period.
Q: How Much Content is There on Missinglettr Curate?
A: It depends on your niche – popular niches usually have a lot of content, but that being said, new nichess are added frequently, and the platform is growing (30.000 Missinglettr users)
Q: What's the Content Quality Like on Missinglettr Curate?
A: Most of the content is quite good – and it is easy to spot content that is just being promoted to gain traffic to affiliate links
Missinglettr conclusion: Is it worth buying?
If you are a Social Media Marketer and into content marketing and want to increase your followers and gain more free organic traffic (traffic on autopilot), Missinglettr is the Social Media automation tool to aim for. It is a great product.
Missinglettr helps to reuse and curate social content and provides an overview of your social campaigns.
The price is absolutely reasonable compared to the features being offered.
But don't take my word for it – take advantage of the 14-day free trial (No credit card needed!) and take full advantage of Missinglettr during the trial time period.
Missinglettr is the kind of marketing tool you didn't know you needed before you discovered it – it is a must-buy if you want to take your content strategy to the next level.
I hope this Missinglettr review was helpful – and remember: Sharing is caring! 😉
All the best,
Brian