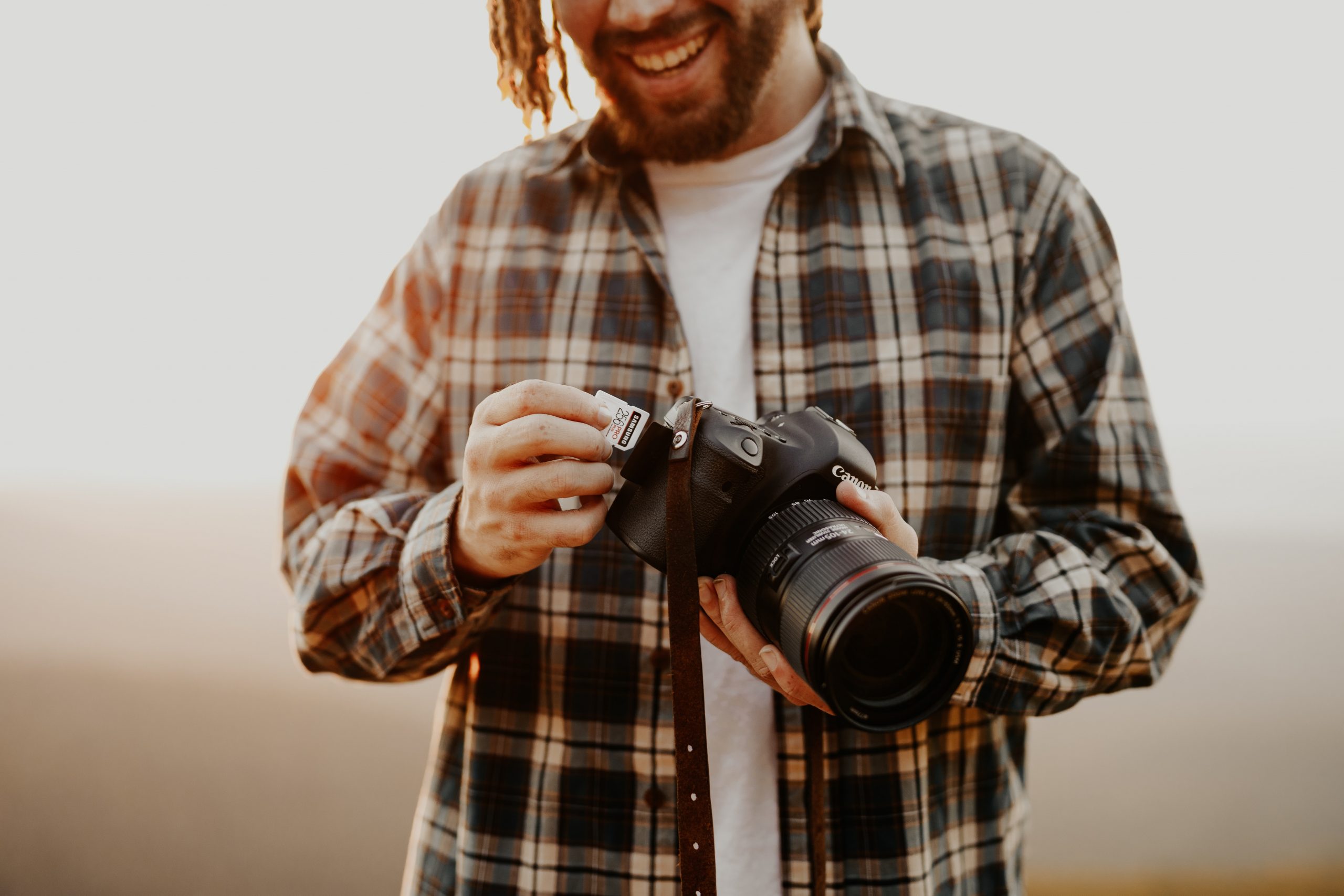 How to do SEO for photographers?
This detailed guide "SEO for photographers" is specifically about search engine optimization for photographers. Here you can learn how you can improve your rankings in the search results with simple methods, and how you can generate more sales by generating more visitors who are willing to buy your services.
For photographers, it has never been easier than today to share their images with a large audience, earn a side income from photography, or turn their passion into a career. Facebook, Instagram, Pinterest and Flickr are a good way to start getting noticed, but they quickly reach their limits. With your own website, you are much more flexible and more independent.
Why should photographers do SEO?
A website can be set up quickly today thanks to free content management systems and numerous online services. Templates for photographers that skilfully showcase your images are available endlessly. But most website operators quickly become frustrated: Statistics of visitors show disappointing numbers and there are no orders or any requests.
This is not the fault of the system behind the website, but its lack of optimization. As a photographer, you compete with numerous competitors – including many amateur photographers – for the top positions on Google. After all, 98 percent of those who search for a photographer do so on the market leader among search engines.
Anyone who googles usually stays on page one of the search results. Here however – apart from the paid advertisement places – only up to ten web pages can be found. If you don't want your website to end up in digital oblivion, then you can't avoid search engine optimization (SEO).
Understand Google and you will understand SEO for photographers
Before you dive into search engine optimization in detail, you should be aware of what Google is and what makes it tick. The search engine, which has a market share of 95 percent in this country, is still the center of the company. Competitors such as Bing and Yahoo only play a very small role and SEO will probably always refer to Google's algorithm.
The secret Google algorithm determines which website is ranked where in the search results. The ranking is controlled by about 200 different factors. The goal of search engine optimization is to influence the identified ranking factors in such a way that the optimized website is placed as high as possible in the search results in order to achieve as much traffic and conversions/leads as possible.
Search engine optimization is based on two pillars: OnPage and OffPage optimization. OnPage optimization includes all measures that are taken directly on a website. They are content-related, structural or technical in nature. OffPage optimization, on the other hand, deals with all external SEO factors.
Manipulating rankings with SEO is supported by Google, as long as it does not violate webmaster guidelines. Prohibited SEO measures are punished by Google with a penalty, which in the worst case results in being kicked out of the index.
Google's ultimate goal is to provide its users with the best search results in order to maintain or expand its dominant market position, on which the success of other Google services such as AdSense and AdWords also depends. Given this background, if you always ask yourself whether SEO measures help to move the best websites to the top, then you will quite intuitively make the right decisions.
In order to achieve the company's goal, Google is constantly working on improving the search algorithm. As a result, search engine optimization is a dynamic and lifelong process. Things that worked yesterday may already be obsolete today.
Keyword research and the right audience
Anyone who uses Google enters a search phrase into the search engine's search box. Google then presents the best search results for this search query. If you want to be found by your target group, you must therefore first find out which keywords they are searching for. Because only if you deal with these keywords in your website it can be ranked for these keywords.
For this reason, search engine optimization always starts with a precise keyword research, which forms the basis for many SEO measures. Also for "SEO for photographers" I had to go through this process! This research is usually done in two steps:
Brainstorming
The easiest and quickest way is to first put yourself in the searcher's situation and first ask yourself what you would be looking for. To get a more objective and multi-layered view, it helps to ask family, friends and colleagues. Write down all the search phrases that come to mind or are mentioned. The keywords that are mentioned most often are most likely the ones that are searched for most often.
Keyword-Tools
After brainstorming, you have an initial tendency, but not yet any really resilient data. No website can rank first for all keywords relevant to the target group. Instead, you need to pick out a few keywords to focus on in your search engine optimization. Professional keyword tools help to identify the terms that have the most potential. For example, they show how often a keyword is searched for in a certain period of time and how high the click price for it is in AdWords. In addition to the Google Keyword Planner and free tools such as Ubersuggest, there are also numerous paid SEO tools that help with keyword research.
However, instead of rushing to the keywords that have the highest search volume, you should analyze the competitors beforehand. As a single player, you rarely stand a chance against big players. It will therefore be difficult for you to quickly and cost-effectively land at the top for the keyword "wedding photographer near me" or "photographer new york". But do you even have to?
With the keyword "photographer new york" you specify your target group and reduce your competition at the same time. If you combine the keyword "wedding photographer" with the words "booking" or "costs", you will also reach that group that not only wants to get superficial information, but already has a very clear intention to book and buy. Although you may reach fewer visitors with these keywords, you will usually have a higher conversion rate.
Basically, the competition among single or short tail keywords (e.g. "photographer") is relatively strong. Therefore, SEOs now focus more on long tail keywords (e.g. "photographer for family pictures in Tampa"). Mid tail keywords (e.g. "product photographer in Boston") are an ideal balance between keywords that are too generic and keywords that are too specific. They therefore promise the best chances of success.
It's all about the content when doing SEO for photographers
If you are aware of your target audience and know what keywords they use, you can create targeted content. Google recently revealed that content and backlinks are the two most important ranking factors. Content includes text, images, videos, audio clips, and interactive elements.
Text is the most important content for Google because the search engine can process it wonderfully and analyze it very precisely. Of all things, the creations of photographers, namely images, on the other hand, are initially a mystery to Google. But more about this later.
Good content is characterized by the fact that it is relevant and offers added value to the viewers. Here, text is no different from the other content types. Only text gives you the opportunity to position the keywords identified in keyword research on your website. You do this by thematically addressing the searched topics, but not by randomly putting any keywords on the page.
There is an intention behind every search query. As a rule, people are looking for answers to specific questions or solutions to urgent problems. If you offer different types of photography, it is recommended to create separate inner pages for wedding photography, corporate photography, product photography, etc.. There you can describe your services in detail and, as a rule, automatically use the most searched keywords.
If you notice that the costs for a photographer are searched for particularly often, then use this potential and create a corresponding inner-page. Even if you don't want to give specific prices, you can explain there, for example, how the price for a shooting is made up and what factors it depends on. You may also be able to name a price range. This way you will not only gain traffic (and important user signals), but also create transparency and trust. Every reader will understand that you can't give a standard answer to the pricing question.
Pay attention to the following things when creating content for photograpy SEO:
Headlines: Structure your text with headlines of different hierarchy levels (H1, H2, H3, etc.). Keywords in headlines are weighted higher by Google. However, also make sure that the headline encourages the visitor to read
Outline and formatting: In addition to subheadings, highlights, bulleted lists, tables and similar serve to structure and format the text. This is especially important for longer texts, which should also have a table of contents at the beginning
Body text: Write a readable text that contains your keywords and frequently used synonyms. However, do not use keyword density as a guideline or even engage in keyword stuffing. Just write the text the way you would like to read it!
Multimedia: Text is important, but other types of content have their benefits as well. Images lighten up an article, improve comprehension and catch the eye. If you include appropriate videos, you increase the time spent on the article. The same applies to audio content
Basically, the greater the content, the better. However, a typical photographer's website is usually relatively straightforward. You provide information about your services and yourself, name a few references and offer contact options. A blog offers good opportunities to create additional space for content. It also gives you the opportunity to establish yourself as an expert and provide behind-the-scenes insights.
Many photographers are afraid to share their expertise in this way. But let's be honest: If you're looking for a photographer, you won't suddenly start taking photos yourself just because the blog tells you how to do it. On the contrary, the prospect will be more likely to think that you are the right candidate for his job.
But be careful: a blog only makes sense if you take the time to maintain it. Google loves it when new content appears regularly. Orphaned blogs that have run out of gas after three postings are already abundant. It also doesn't make a good impression on customers if the last blog entry is four years old. This also applies to the news page that many companies want to have on their website.
OnPage optimization
The OnPage optimization mentioned at the beginning includes all SEO measures that can be carried out directly on your website – for which you are therefore entirely responsible. Accordingly, there are no excuses if the following basics of search engine optimization have not been considered:
Clean source code: Not everyone is capable of programming their website themselves. Even if you hire someone to do it for you or use a ready-made solution, you should make sure that the website has clean source code. Especially complex modular solutions generate thousands of lines of code, which can be shrunk to a minimum if you program them individually. The less code, the faster the page will load
Encryption: Google now attaches great importance to encrypted data transmission for websites – no longer only when data is actually requested. This is not only noticeable in the ranking. Many browsers warn more and more offensively against unencrypted and thus potentially insecure websites, which can deter visitors and customers.
"Talking" URLs: Use a speaking URL, rather than meaningless columns of characters. The page name should describe what the visitor can expect to find on the page. The keywords in the web address are particularly strongly evaluated by Google and should therefore not be missing under any circumstances. Also keep in mind that the directories belong to the URL and therefore must be named sensibly
Meta data: The meta data are those that are displayed in the search results. Here, the page title and the page description play a particularly important role. Both should contain the most important keywords, but at the same time encourage clicks. The title may be up to 70 characters long, the description up to 320 characters. You can save the meta keywords, as they no longer have any influence on the ranking
XML Sitemap: The XML sitemap is machine-readable and is aimed directly at search engines. It contains all subpages that are to be included in the search index. Although the sitemap is not a direct ranking factor, it can speed up the inclusion of pages in the index. As a photographer, you can be pleased that images can now also be specified in the XML sitemap
Internal linking: To find new pages for the index and to update existing pages, the crawler of a search engine moves from link to link. Therefore, you should pay attention to a good internal linking. Not only within the menus, but also out of your texts. Internal linking also helps your visitors stay longer on your website and reduces the bounce rate (see user signals) through further page views.
The OnPage factors mentioned here are an example. In the further progress of this guide, other important factors, such as the loading time, will be explained in a separate chapter. If your website is based on WordPress, you will find plugins for many factors that do the work for you. This is especially handy for the sitemap, which does not have to be updated manually all the time.
Loading time
If you're looking for something, you want fast results. You probably know this from yourself: If a web page you clicked on in the search results doesn't load fast enough, you click your browser's back button and move on to the next suggestion. The website has not only lost a visitor who might have become a customer. No, worse, the website is sending bad user signals to Google. You'll learn why this is so critical in the later part of this guide.
How to test the loading time of your website
PageSpeed Insights tells you what the current loading time of your website is, whether it is good, and what you can specifically do to improve it. The free online tool from Google indicates the loading time on a scale from 1 to 100. The higher the value, the better. It is determined separately for desktop and mobile, so that you can optimize in a targeted manner. A color visualization of the analysis value (green = good, yellow = medium, red = poor) facilitates the initial assessment.
So quite a lot depends on the loading time of a website, which is why it has risen to become one of the most important ranking factors in recent years. Unfortunately, it is images, of all things, that put a strain on the loading time. Fortunately, the web doesn't require photos with 20 million pixels and a size of more than five megabytes. In fact, as a photographer, you'd be pretty stupid to let your photos get stolen in the best possible quality.
By compressing your photos and scaling them if necessary, you reduce the file size quite considerably and thus increase the loading speed. On normal web pages, 50 percent of the image quality is perfectly sufficient. The untrained eye can't tell the difference anyway. You as a photographer are welcome to increase the quality, especially if the images take up a lot of space on your website. Even 80 percent quality reduces the file size noticeably.
For compressing and scaling, you can of course use your usual image editing program. If you use a content management system like WordPress, however, there are plugins that will do the work for you. But keep in mind that too many and especially inefficient plugins can also affect the loading time.
A big effect on the loading time has the specification of the image size in the img tag (see infobox under images SEO), with which the images are included in the source code. If you define "height" and "width" here, then a placeholder is set while the image is still loading. This allows the rest of the page to be built by the browser before the image is fully loaded. This has the effect of reducing the overall loading time. The size is specified in pixels.
Mobile optimized
The fact that Google differentiates between desktop and mobile when it comes to loading time already makes it clear how important websites that also look good on smartphones and tablets are to the search engine. Many websites already receive more hits via mobile devices than via desktop. This is why the mobile-first strategy is already being pursued in many cases, with the mobile version of a website taking center stage.
With a responsive web design, you can achieve that your website is optimally displayed on the 28-inch monitor, the laptop as well as on the smartphone. Pages that are not optimized for smartphones and tablets are awkward to use. However, usability is another ranking factor and also influences user signals.
When choosing a template, make sure that it is responsive, i.e. that it automatically adapts to the respective screen size. There are now many free templates that meet this requirement. An even better choice are often paid templates, which are usually more leanly programmed and are almost always the better choice from the point of view of loading time. A license for these costs between 50 and 100 dollars on average. The best solution is to have your own and individual design created.
User signals
The hint at user signals is a common thread throughout this guide and across search engine optimization. Experts still disagree on whether these signals actually directly influence the ranking. It is clear that they somehow influence the ranking, but nobody really knows how much and how exactly.
If you look at the source code of a search results page, you will see that Google today collects a lot of data. Google no longer simply forwards, but registers how often a link is clicked on (click through rate), whether the visitor stays on the page for a short time (short click) or a long time (long click), whether he visits other pages or leaves them again on the initial page (bounce rate). These are all values that any web analysis tool can provide you with.
How to improve the snippet and click-through rate of your website
The listing of your website on Google's search results page takes the form of a so-called snippet. This consists of the title of your website, the URL and the page description. With these few lines of text, you must succeed in generating interest for the website behind it. Use the title and the description to refer to the keywords for which you have optimized. Try to draw attention and arouse curiosity. Make full use of the 70 or 320 characters, if only to take up the maximum space on the page and thus offer maximum click area. A generator or different SEO plugins for wordpress can help to optimize the snippet and thus improve the click-through rate.
The fact that user signals are not direct ranking factors is probably also related to the fact that they must be viewed in a very differentiated manner. A short retention time can mean both that the visitor has found what he was looking for right away, or not. This also applies to the bounce rate. It is not so easy to convince users who have a specific request to visit further inner pages.
However, there is a general agreement that higher click-through rates, longer retention times, and lower bounce rates have a positive effect because they indicate that the website is relevant.
This way, as a photographer, you can improve the user signals of your website:
Make sure that the loading time of your website is as short as possible, despite having a lot of photos. A too slow page load is one of the most common reasons for a high bounce rate. Anything under one second is ideal. Anything over four seconds won't work at all
Offer the visitor a tidy and clear page where they can immediately find their way around. No one bothers to find their way around first. The back button is clicked much faster.
Get to the point and immediately show your visitors a solution to a problem or answer the question. No one takes the time to search for it in a long text. That's why the outlines and formatting mentioned above are so important
Offer your visitors photos! Text is important, but on a photographer's website, pictures are expected – and self-made ones at that! Photos may even predominate here. With galleries on different topics you can show your artistic diversity and increase the time spent on your website
Videos may contribute to longer loading time just like images, but they are a great way to improve time on site. As a photographer, you can use a video to provide a behind-the-scenes look at a shoot, for example, and explain the process to potential clients right away
Create trust, for example, by using encrypted data transmission and by displaying a green browser line instead of a warning notice. Customer references also contribute to this. Either in the form of logos of well-known companies or as customer quotes, preferably with a photo of the customer. Such references not only have a positive effect on user signals, but also on your booking figures
In blog articles, infographics are a great way to get readers' attention. Especially in photography, they lend themselves wonderfully and are also gladly shared on social networks, which improves social signals. If you share your own infographics with others, you may also be able to collect a few backlinks
A positive user signal is also a returning visitor. Therefore, try to create content that will help you keep visitors. A blog with regular entries is a good start. Additionally, how about a photo of the week from the region that generates local traffic?
Finally, the most important thing: Offer your visitors relevant and interesting content!
Image SEO
Images, of course, play the main role for photographers. You can still have texts on your website that are worth reading. What potential customers are ultimately interested in are, of course, your work results. They are the determining factor in whether a photographer is booked or not.
Unfortunately, photos, images and graphics cause two problems at once: they increase the loading time, but above all, Google cannot "read" images. The search engine does not know what is being displayed. In order to still be able to display the right topics in the image search – which, by the way, is an underestimated source of traffic – Google needs other hints.
Follow these tips to help Google understand what to do with your images:
Image size: Google prefers images on which image search users can also recognize something. Thumbnails are less likely to land in the top than images that meet a certain minimum size. Each photo should be at least 300 x 200 pixels in size (60,000 pixels)
Image format: photos that are not in landscape format (4:3) are scaled and cropped in the image search. In addition, rectangular images take up more space on the results page and are therefore more likely to be clicked
Image quality: Use good quality photographs for the Internet as well, as this increases the click-through rate. Blurred images become even less attractive due to compression and scaling of the image search
File name: The file name is the first clue for Google to find out what is on the image. Therefore, you should not leave it at the cryptic string that the camera spits out. Instead, you should use a "speaking" file name that describes what is to be seen. Keywords are mandatory here. Because click-through rate and dwell time play a major role, you should only use keywords that match the image. It is best to concentrate on just one. Individual words are separated by hyphens and not underscores
Surrounding text: Text surrounding the image also tells Google what is in the image. So the image and text should always go together. If the keyword from the file name appears in the text, this is a good signal for Google. The closer the keyword is to the text, the better. How far the surrounding text goes, however, is unclear
Caption: The text that comes closest to the image is almost always the caption, so it should never be forgotten. You should also work with keywords here
Alt attribute: The alt attribute is specified in the source text. Alt stands for "alternative". The text specified here is displayed if the image cannot be displayed for whatever reason (server problems, wrong URL, etc.). The Alt text should therefore also describe what can be seen on the image, also because this text is closest to the image in the source text. The use of keywords is also required here. Independent of search engine optimization, the alt attribute is an important element to ensure the accessibility of a web page
Title attribute: The title attribute is a universal attribute and can therefore also be used for images. The text stored here is displayed when you move the mouse over the image. If the image is linked, the title text is used to describe what the user can expect when clicking on it. If there is no caption, the Title attribute is often used as a substitute and may also contain a copyright statement. Because this text is also close to the image and Google uses it to analyze the image content, the title attribute should always be filled in.
While text should always be unique to avoid duplicated content, images can of course be included multiple times and on different pages. Google even evaluates this as a positive ranking signal.
Images are becoming more and more important for Google, which is not only shown by the – from the author's point of view not always positive – adjustment of the image search. Above all, however, photos have long played a role in organic search as well. For lots of search terms, a small preview of the best-ranking images is displayed before or above the snippets. Or relevant images are displayed on the right side of the search results in the Knowledge Graph, where the images are significantly larger.
If, thanks to consistent image SEO, your photos are even displayed in organic search, then you can look forward to good traffic and hopefully good user signals. So it's worth optimizing here too – especially for photographers!
OffPage optimization (backlinks)
If OnPage optimization consists of many small adjustments, OffPage optimization is mainly about the legendary backlinks. These are links from other websites to yours. For Google, such a backlink represents a recommendation and thus an important factor in assessing the relevance of a website. After all, you would never link to a bad website.
A backlink from any website is of little use. Again, relevance is required. The content of the link source should fit thematically to the content of the link target. It doesn't have to be exactly about the same topic, but at least in the broadest sense about photography. A DoFollow link is ideal because, unlike a NoFollow link, it inherits way more link juice. The better the link source ranks, the more powerful the backlink is. Basically, one thematically relevant link from a strong website is more effective than 50 (perceived value) weak links from any website.
Now it is difficult to get backlinks especially in the initial phase. You will only be linked, if you offer good content, which is also known. So you first have to build a name for yourself and ensure good visibility for your website. Digitally, this is difficult without backlinks. However, you can certainly help a little.
Link sources for photographers:
If you have not already done so, then register as a photographer in the well-known online business directories. The free basic entry does not always include a link, but such business directories still exist
Ask partners you work with to link you on their website. This could be agencies you work for as a photographer, for example, or wedding planners you work with on a permanent basis. Also make sure that the organizers of wedding fairs where you present yourself as a wedding photographer link to you on their website. Such links also strengthen the local authority of your website
Write guest articles in which you share your photography knowledge. This can be, for example, in online magazines, in blogs, or even in the online offerings of regional daily or weekly newspapers. The newspapers in particular are always grateful for free content from experts in the region. Either link from the text to a suitable innerpage of your website or include your homepage in the author description
Many specialist magazines and photo portals regularly organize photo competitions. Often not only the winning photos are shown, but also the other worth seeing works of the participants. Sometimes this includes not only the name of the author, but also the website
Become active on blogs and forums about photography and post meaningful comments and helpful posts. You can also answer questions about photography in question-and-answer portals. However, don't just use these accounts to post links, but first strengthen your profile by participating intensively and fully in the community. Then, every now and then, you will also be allowed the one or two links to your own website
A blog with interesting and regular articles is already a good attraction for links. If you are not so fond of writing, other content is also possible. Podcasts and video series are excellent link magnets, provided you really put in the effort and stick with the format
Get into press relations and publish press releases on press portals to coincide with major events. For example, if there is an important anniversary of the church in your town, you can show suitable pictures in a gallery on your website. In the press release, make it clear that you will provide the press with free images for reporting purposes in return for naming the author and his website
If you take link building into your own hands, then it is important to proceed in a targeted and careful manner. The link growth must take place naturally and over a longer period of time. Google will rightly become suspicious if numerous links are suddenly set for a website that is only a few days old. A natural backlink profile includes both strong and weak links. The weak links ideally come by themselves, while you invest your precious time in generating high-quality links by doing wonderful outreach.
Local SEO
Unless you're an internationally in-demand star photographer specializing in high fashion or wildlife predators, your clients will usually be from the local area. Therefore, you should definitely optimize your website for local search queries ("photographer Frisco TX"). This is because Google has its own index for local businesses.
If Google knows the location of a user, for example through the IP address, search results from the region are (also) displayed in the organic search. If the search term has a clear local reference (e.g. "hair salon" or "plumber"), the local listings are also displayed in the maps pack above the organic search results. The Knowledge Graph to the right of the search results can also contain local elements. In addition, there are local listings in Google Maps. So there is a lot of potential!
The basis for good local optimization is first of all good OnPage optimization. You should also create a local reference with your content. It is also essential that you gain access to your company profile on Google via Google My Business.
If Google already has information about your company, for example from yelp, you can adapt information such as address, telephone, homepage and opening hours here. It is important that you provide the same contact details everywhere on the Internet and also make sure that the spelling is identical. This strengthens Google's trust in you and promotes Local SEO. A company description is also needed.
As a photographer, you will be happy to know that photos play a big role in Google My Business. You can upload them directly and should do so. The images will be displayed along with the basic data in the Knowledge Graph and represent your business. In addition, photos increase the click-through rate. As a photographer, you should definitely upload a photo of yourself as well as your logo. Pictures that show you at work are also recommended. You can even present your photo studio in 360 degrees.
An important part of Local SEO is also the business reviews that are submitted directly to Google. Feel free to ask satisfied customers if they are willing to rate you on Google. However, do not use purchased reviews, which can send negative signals due to their lack of authenticity.
My final thoughts on seo for photographers
The guide to search engine optimization for photographers has given you an initial overview of the most important measures that will help your website achieve a better position in the search results. SEO is one of the most cost-effective and sustainable marketing measures of all. Try to implement as many tips as possible!
Especially image SEO and Local SEO are still neglected by many website operators. Here you already have the possibility to achieve successful results with simple methods. Try to network online as well as possible to build a strong and natural backlink profile.
Search engine optimization is a complex and lengthy process. At this point, I can only superficially discuss the individual factors and measures. I'm happy to answer any questions you may have!
Comment below or write us an email.
In any case: Subscribe to our newsletter to learn more about image SEO, local SEO and, of course SEO for photographers. 🙂
You won't regret it!All the best,Fabian